Fruit Flies — Show Poster, Invitations & Signage, 2022
---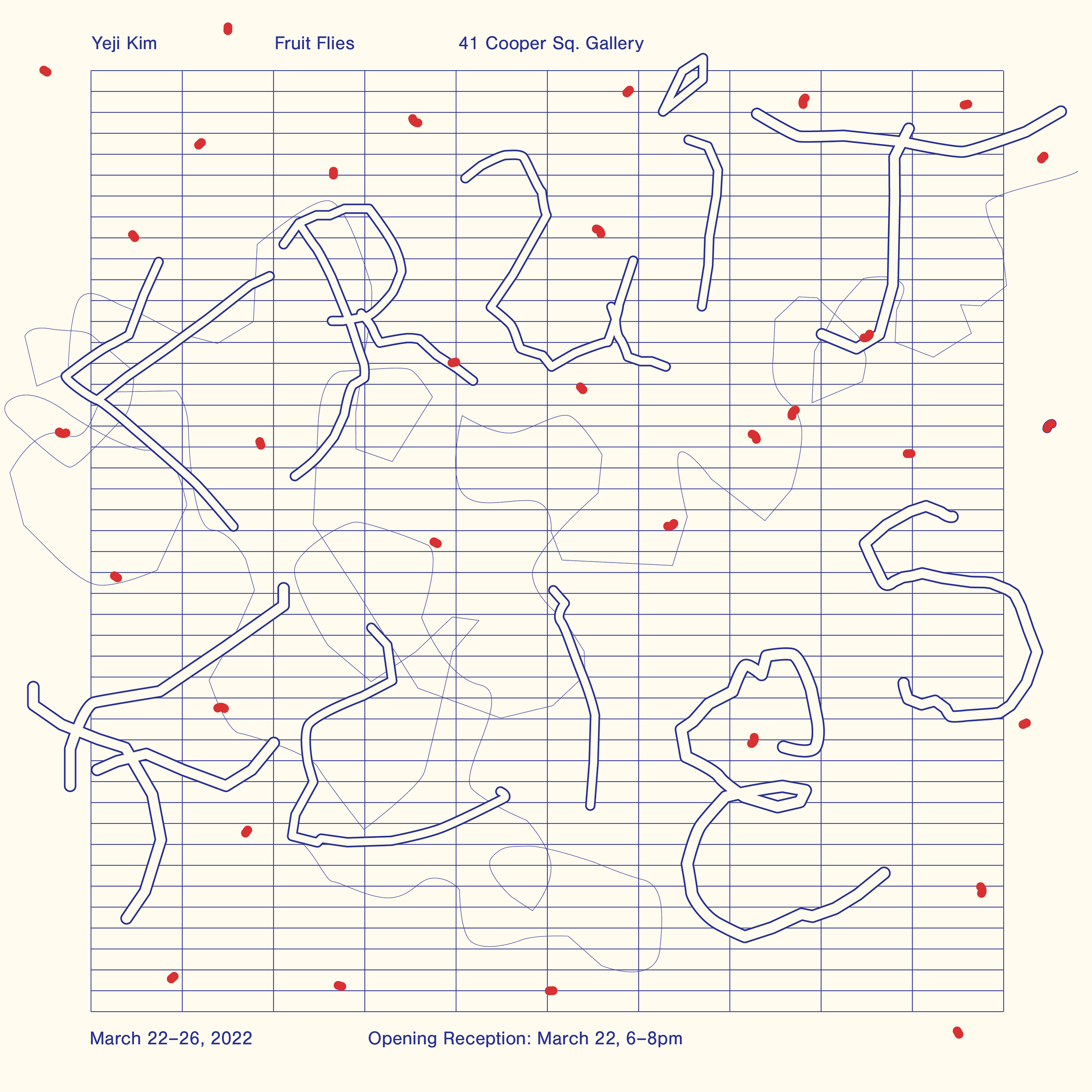 Poster and invitation (physical and digital) for my solo show, Fruit Flies, which showcased various paintings, posters, books, prints, ceramic pieces, and animations.
I Have Been Here Before — Show Poster, 2022
---
Risographed poster created in collaboration with artist Kailey Weaver for her solo show, I Have Been Here Before.
N-400: Application for Naturalization — Risographed Zine, 2021
---
The U.S. Immigration system is especially notorious for its hostile bureaucracy, as translated into and demonstrated by language used in various naturalization paraphernalia. This booklet consists of AI-generated narratives, derived from words and visual structures used within the N-400 Form and Preparing for the Naturalization Test: A Pocket Study Guide. 19 real immigration jargons were used to generate each fake narrative in this booklet. Collected by the Herb Lubalin Study Center of Design & Typography.
HUGO BALL(oons) — Balloon + Packaging, 2021
---
Each balloon contains a stanza from Karawane, a sound poem composed of meaningless sound-words by Hugo Ball. The balloons are to be popped in homage to the Dada movement's rejection of language and logic in opposition to the brutalities of war.
A Thing About Things With Words — Chapbook, 2021
---
A bookmark-shaped chapbook composed of essays by Donald Barthelme, Georges Perec, Jhumpa Lahiri, and Nicholson Baker on their relationships to spoken and written words.
Gung-Ho — Website + Book, 2021
---

What if children were granted the right to carry in schools to protect themselves from mass gun violence? If so, what kinds of materials would help children understand guns as a friendly object, rather than the killing machine it is? This satirical project is conceived around a series of what-if's surrounding the topic of school shootings to create a sense of discomfort around the presence of guns around schoolchildren. View full website prototype here.
Shiny Streets of Grime — Poster, 2021
---

Poster created for PHxCollege's screen printing demo with
Bushwick Print Lab, inspired by

The Push Pin Legacy

exhibit at Poster House, which was on view during the event. In-process shots by

Aaron Cohen. Collected by the Poster House permanent collection.

Americanah — Book Cover, 2021
---
Book cover design concept for Chimamanda Ngozi Adichie's 2013 novel, Americanah.
Modular Emotions — Book, 2021
---
A screenprinted book that depicts various emotions through combinations of gridded icons. The modularity of the icons, as well as the form of the book itself, explores the fluidity and in-betwenness of emotions.
Fish Series — Poster, 2020
---
Series of three posters created to pay homage to the fishes my mother used to pack in my lunches, which elicited strange stares from my peers in a dingy, American elementary school cafeteria.

The Bermuda Triangle — Branding, 2021
---

Speculative identity concept for The Bermuda Triangle, a location in the Caribbeans notorious for missing flights and shipwrecks, as a travel agency.

Funeral Unknown — Zine, 2021
---

A screenprinted zine about specific funeral rituals, sounds, and objects that explores the fragmented reality of grief.
CUSAI 2021 — Branding, 2021
---

Cooper Union Summer Art Intensive (CUSAI) is a high school pre-college summer program hosted by The Cooper Union School of Art. The visual identity, which is composed of a funky typeface, Fuhgeddaboudit, and swooshes of airbrush-like strokes, was created with the intention of piquing the interests of high school students who are interested in studying fine arts, design, and animation in a collegiate setting for the summer.
Reflections from Justice Dreamers — Book, 2021
---

Design & illustration for Reflections from Justice Dreamers, a compilation of prosaic manifestos written by social workers & justice dreamers of the collective learning community in UCLA Luskin School of Public Affairs.
TEARANOSAURUS-X — Motion Graphics + Illustration, 2020
---
Advertisement for a bogus diet-tea product with grand promises of weight loss.