Reminder — Typographic Illustration & Zine, 2023
---
An accordion zine, laser-printed onto colored paper, reminding its readers to slow down.
Kelp Forest Adrift: Opener, Audubon Magazine — Editorial Layout & Illustration, 2023
---
Editorial Layout and spot illustrations for Audubon Magazine's Summer 2023 issue's opener article, Kelp Forest Adrift.

It's Not Just a Song, It's a Call to Action / 2023 Audubon Benefit — Identity & Invitation, 2023
---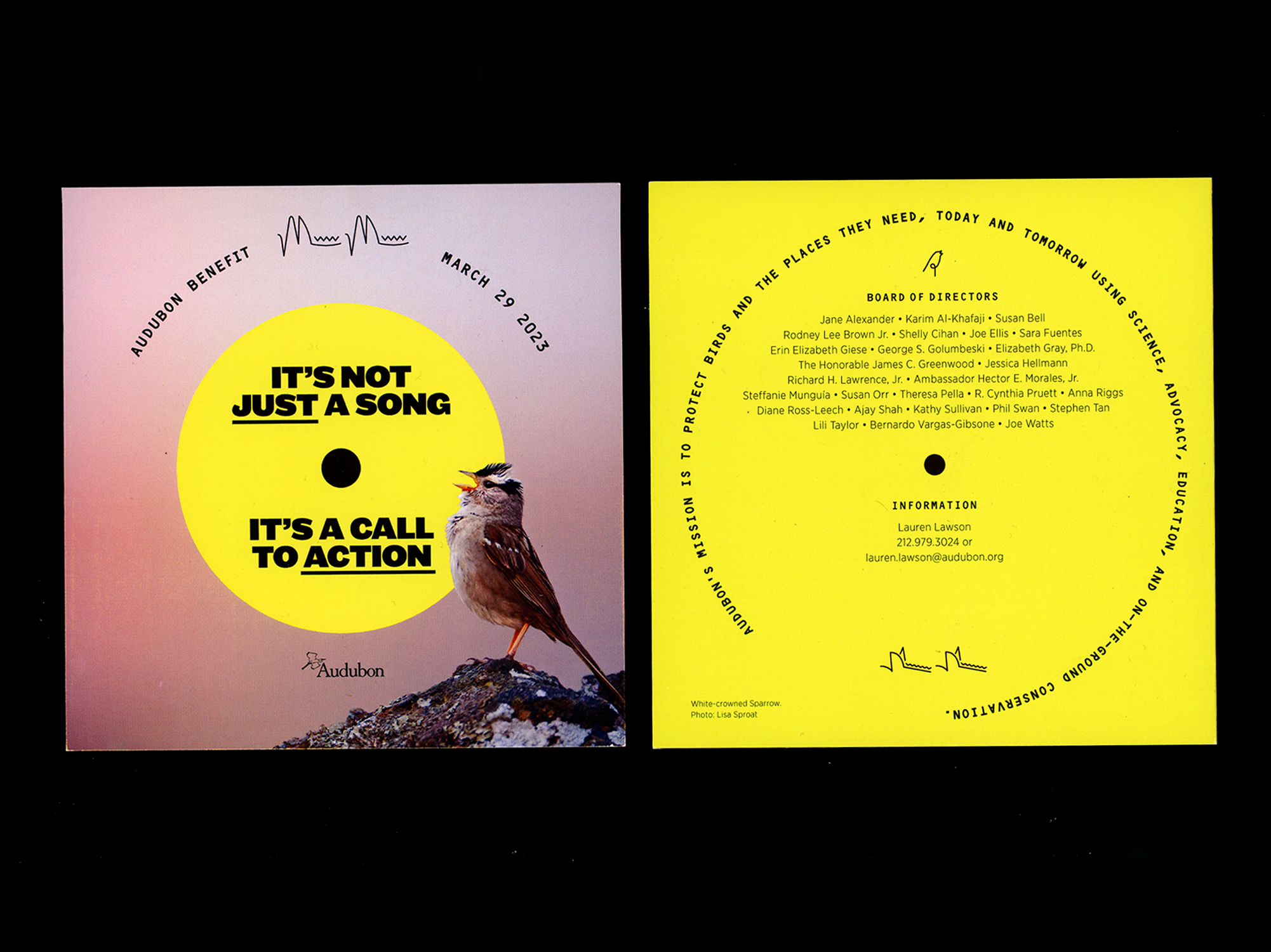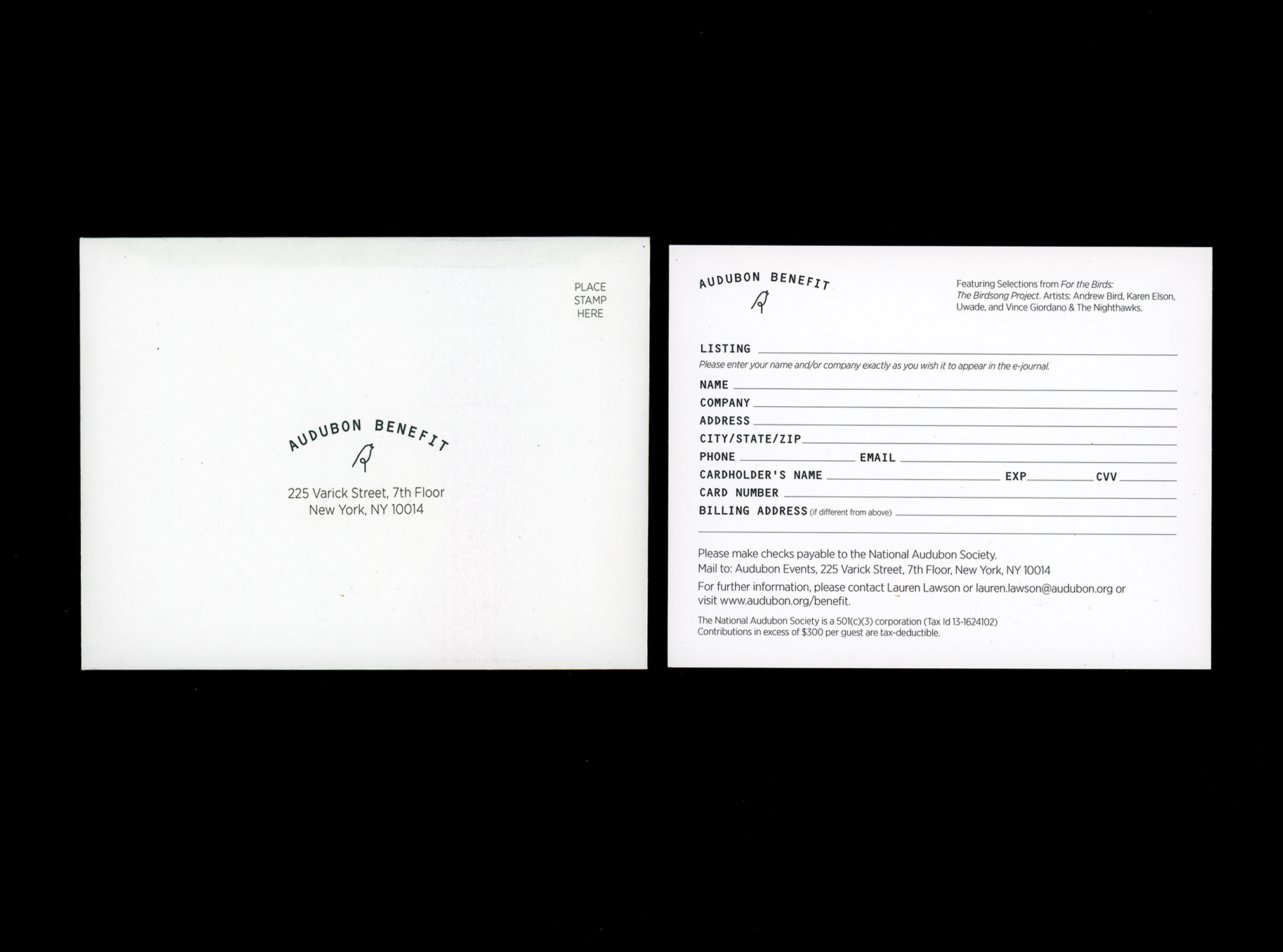 Identity for the 2023 Audubon Benefit, It's Not Just a Song, It's a Call to Action. The event celebrated The Birdsong Project by inviting some of the contributing artists to perform during the benefit concert. The identity was built around birdy interpretations of musical symbols and transcriptions of White-crowned Sparrow spectrograms.
Artworldbuilding — Identity & Illustration, 2022
---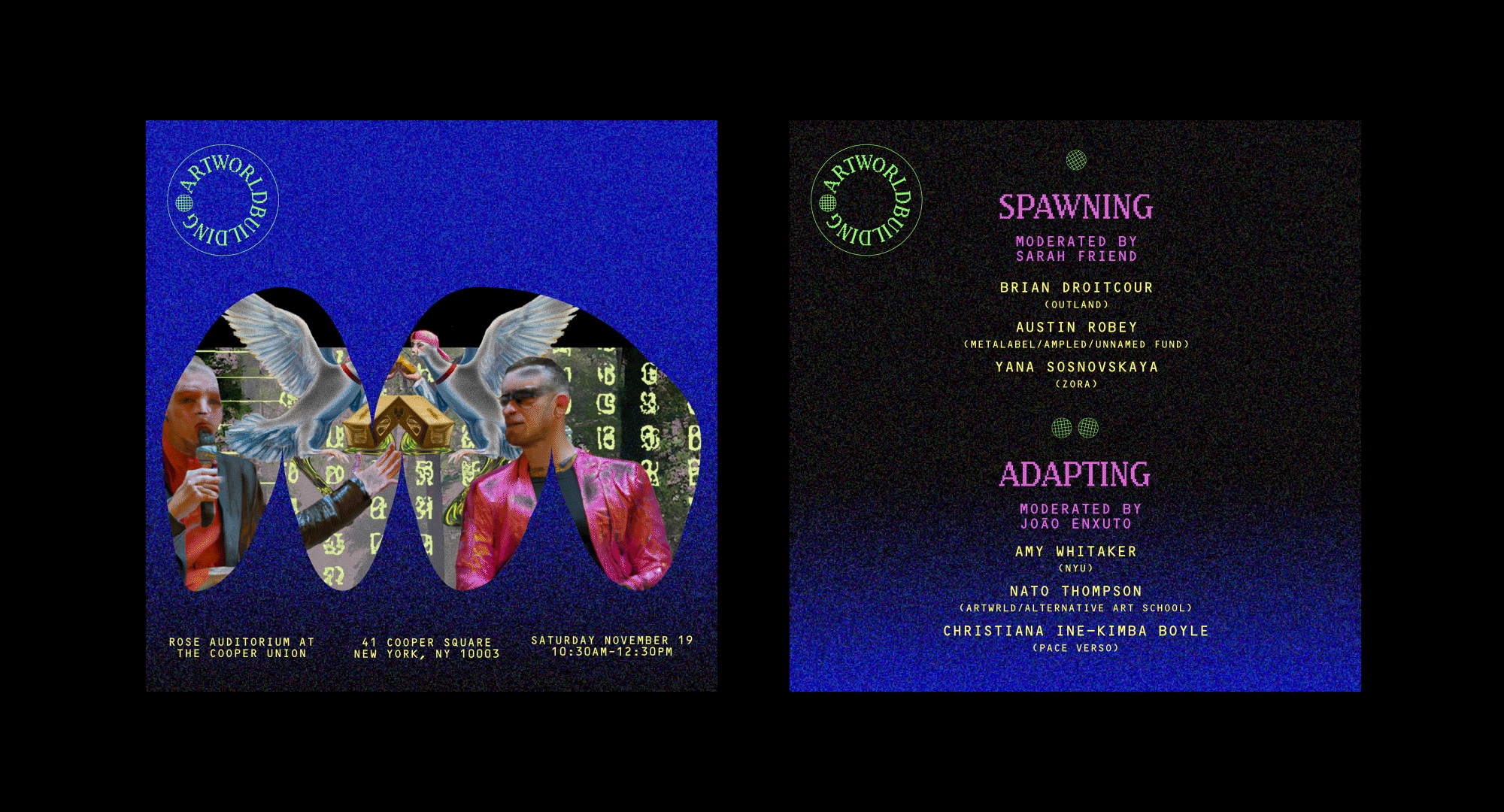 Identity for Artworldbuilding, a symposium to consider new organizations and institutions prompted by blockchain and web3, organized by Joao Enxuto and Sarah Friend. The illustration was created by collaging various images generated by Dall-E to pay homage to new intersections between artificial intelligence and art education, and its ripple effects.
Kite Show — Poster & Social Media Graphic, 2022
---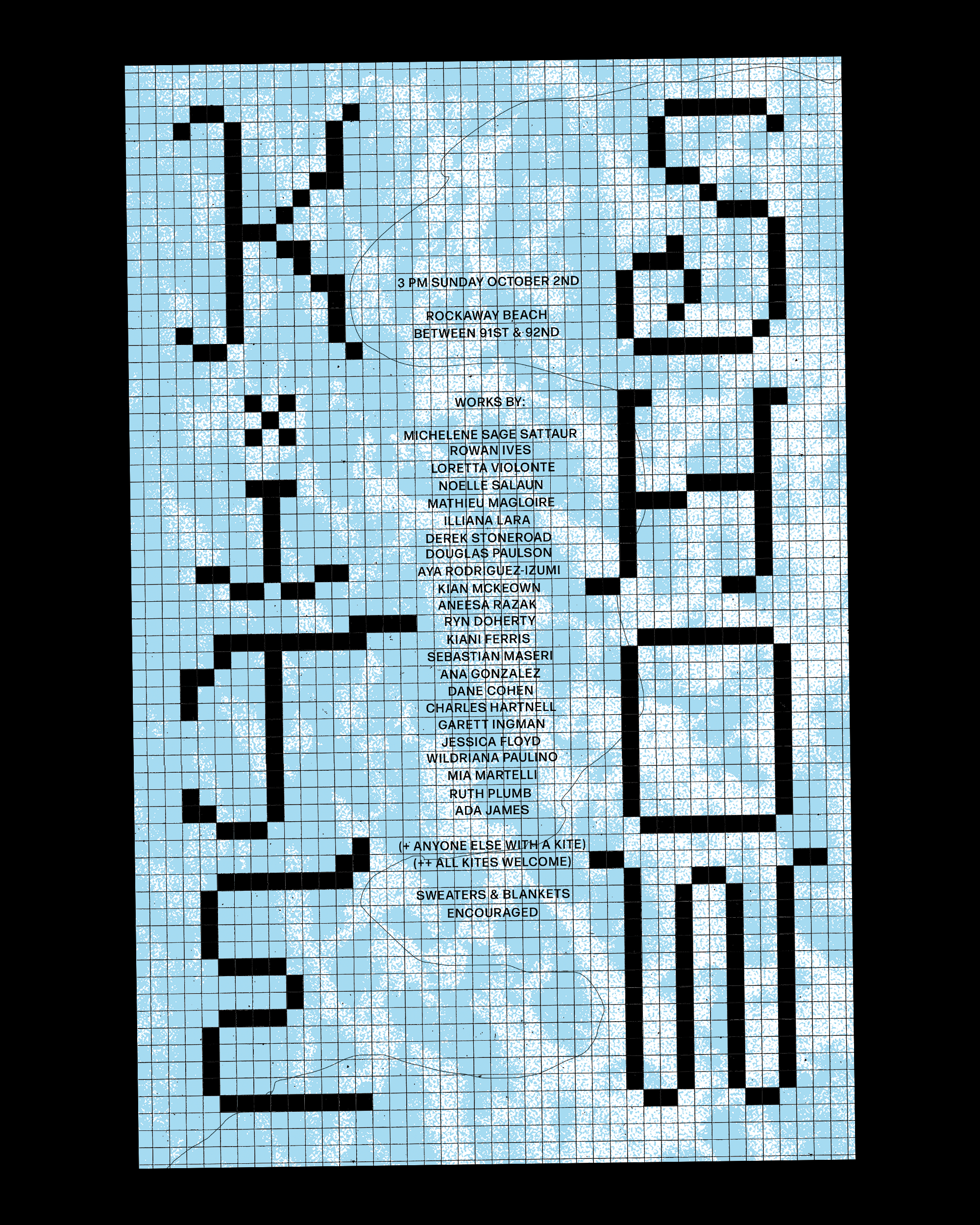 Poster and social media graphic created for Kite Show, a group show responding to the wind with play through installation, sculpture and performance, organized and curated by Aneesa Razak.
We All Made Out Anyways — Zine, 2022
---
A zine featuring a collection of love letters received for and broadcasted in We're All Gonna Make Out Anyways, broadcasted via WXBO, Ox-Bow's radio station. The show and zine was aimed at manifesting and archiving ephemeric qualities of love into a physical form.
Summer Solstice Woodland Faerie Realness — Menu Design, 2022
---
Menu design for Summer Solstice Woodland Faerie Realness, a dreamy feast in the woods with food and drinks served on glassware created by members of Beginning Glassblowing, instructed by artist Corey Pemberton at Ox-Bow School of Art and Artists' Residency.
Pass The Spatula Issue 3: Global Food & Mental Health Awareness — Editorial Design, 2022
---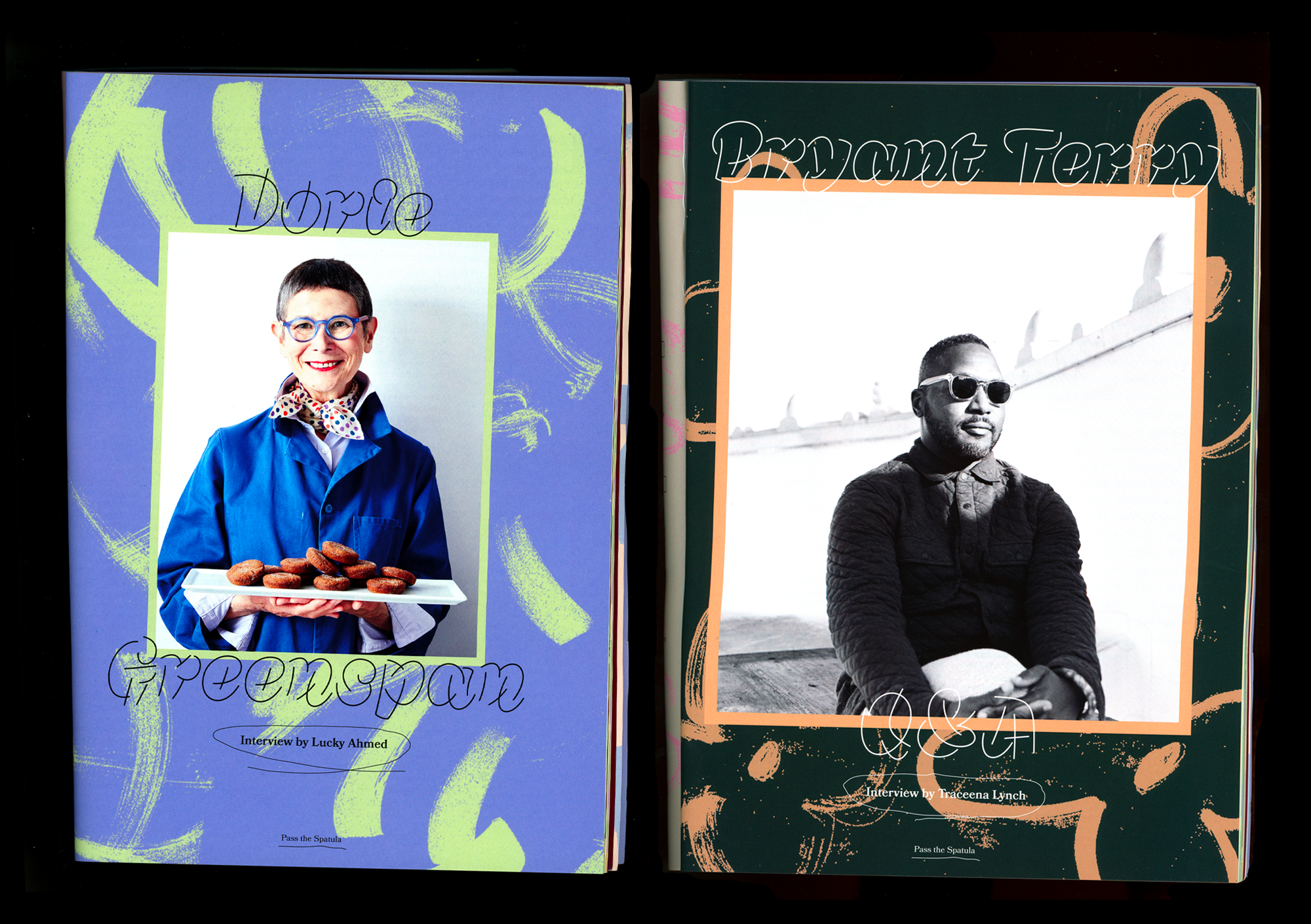 Pass the Spatula is an annual publication by Food Education Fund and the students of Food and Finance High School and High School of Hospitality Management in New York City. For Issue 3, the students explored global food, the relationship food and community, and its impact on mental health through various essays, interviews, and recipes in a 96-page magazine.
Time Zone Protocols & Prime Meridian Unconference — Website & Exhibition, 2022
---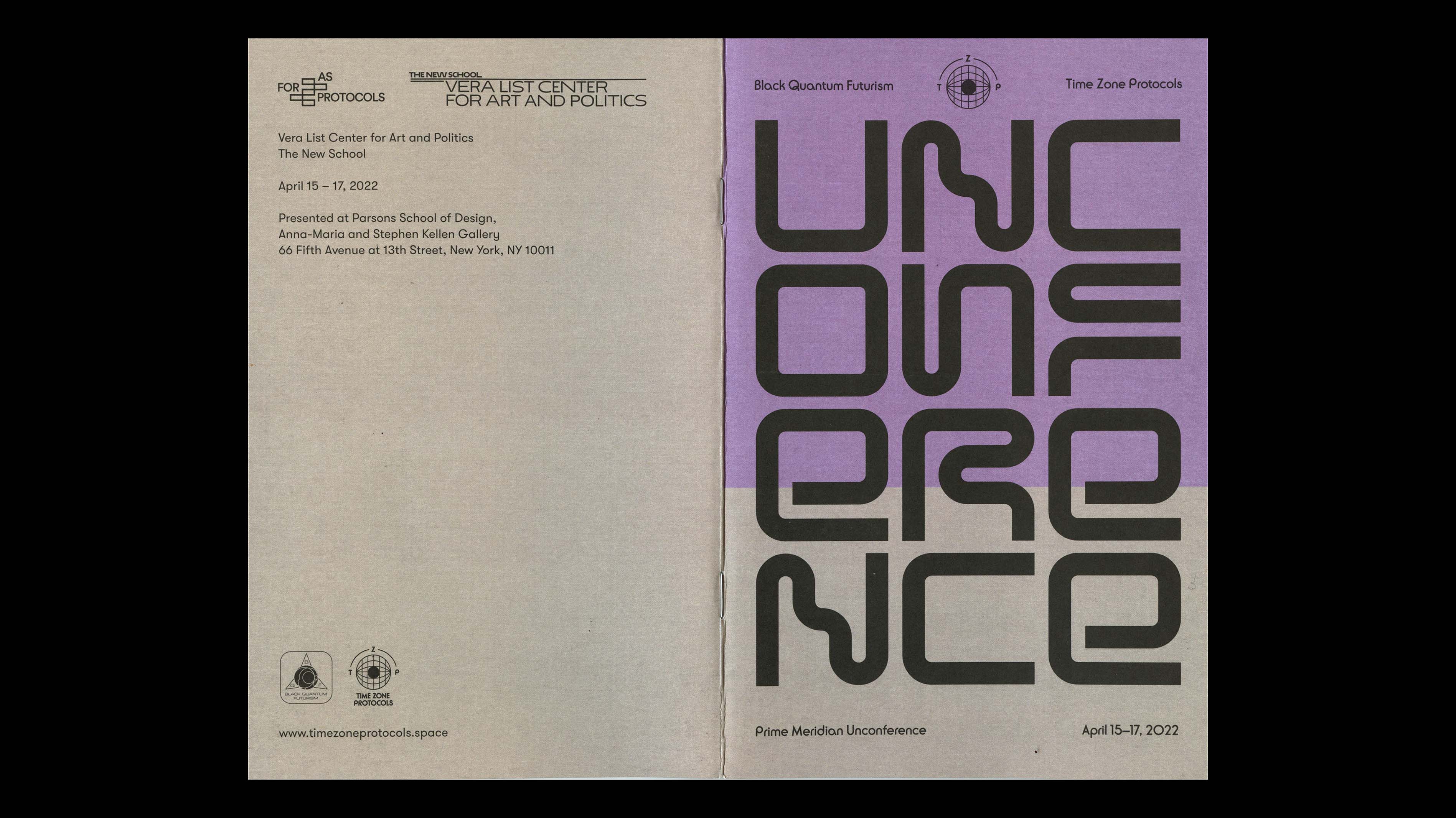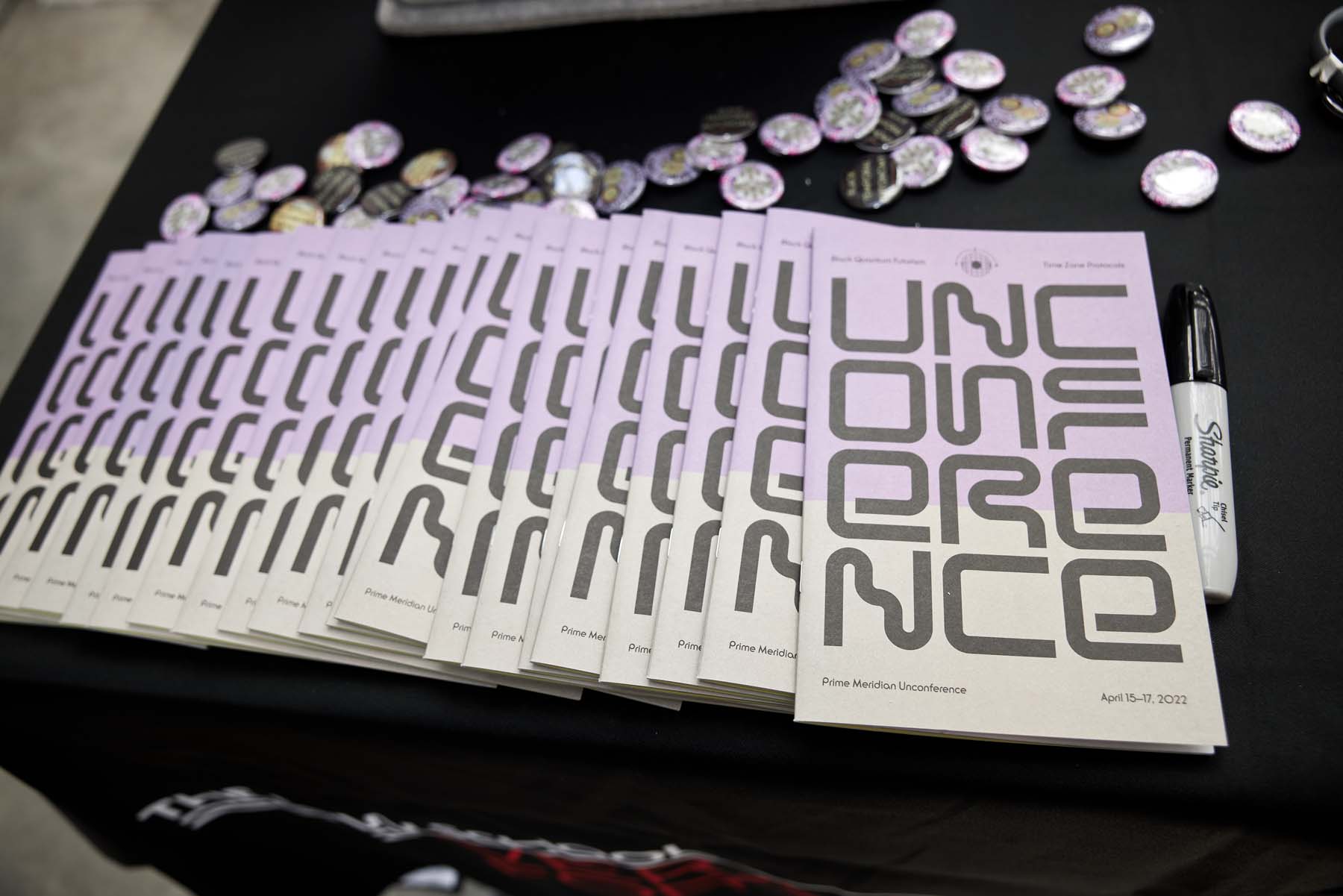 Rasheedah Phillip's Time Zone Protocols research project, exhibition, and accompanying Prime Meridian Unconference explores and critiques the written "Protocol Proceedings" developed at the 1884 International Prime Meridian Conference leading to the decision to make Greenwich London the prime meridian and leading time zone for the world by seeking to develop an understanding of Colored People's Time as an ontological framework and alternative theory of temporal-spatial consciousness. With Partner & Partners, I assisted in creating various components of the website and exhibition, such as different booklets, website pages, video installation, and more.
The Laundromat Project — Identity & Website, 2022
---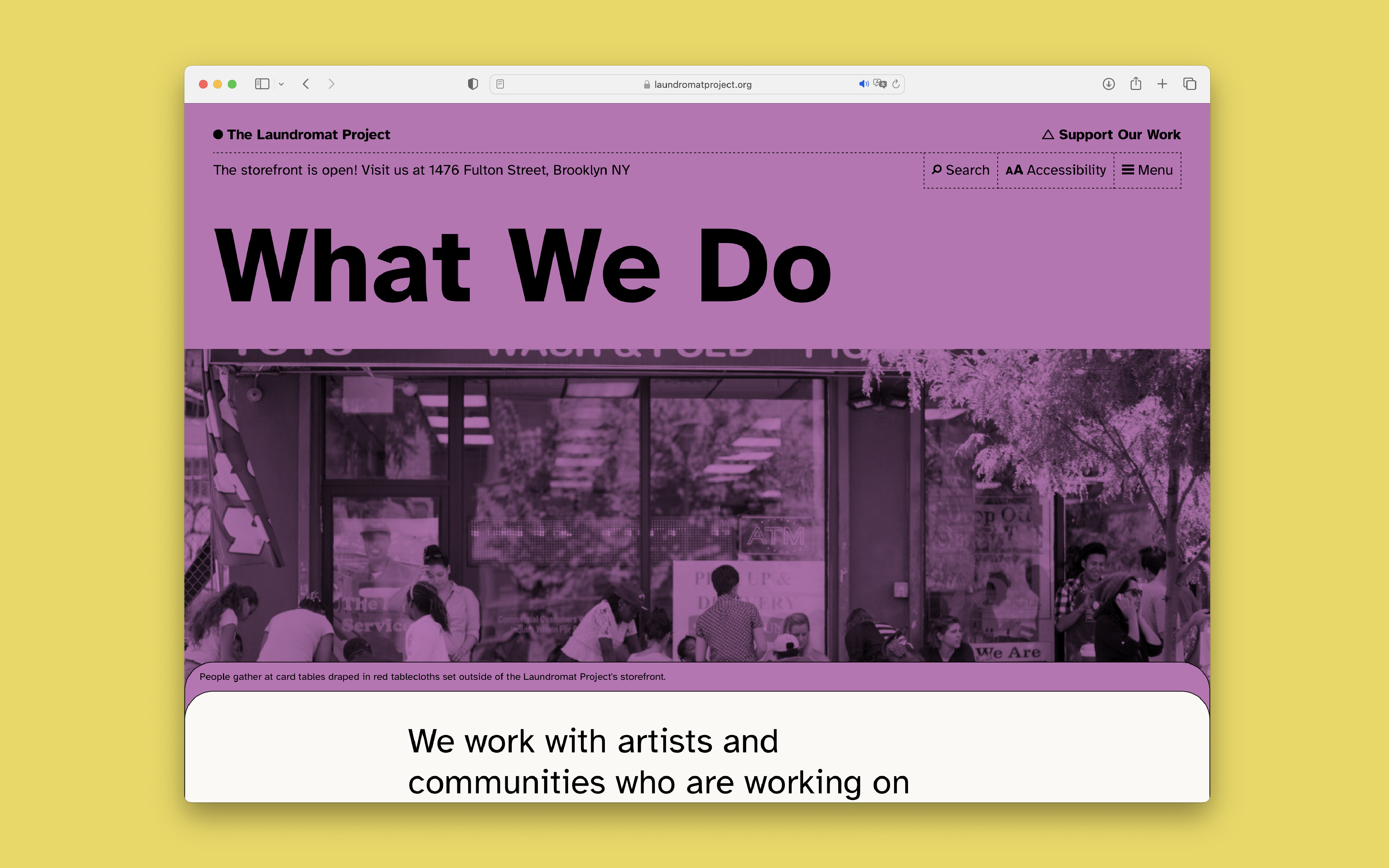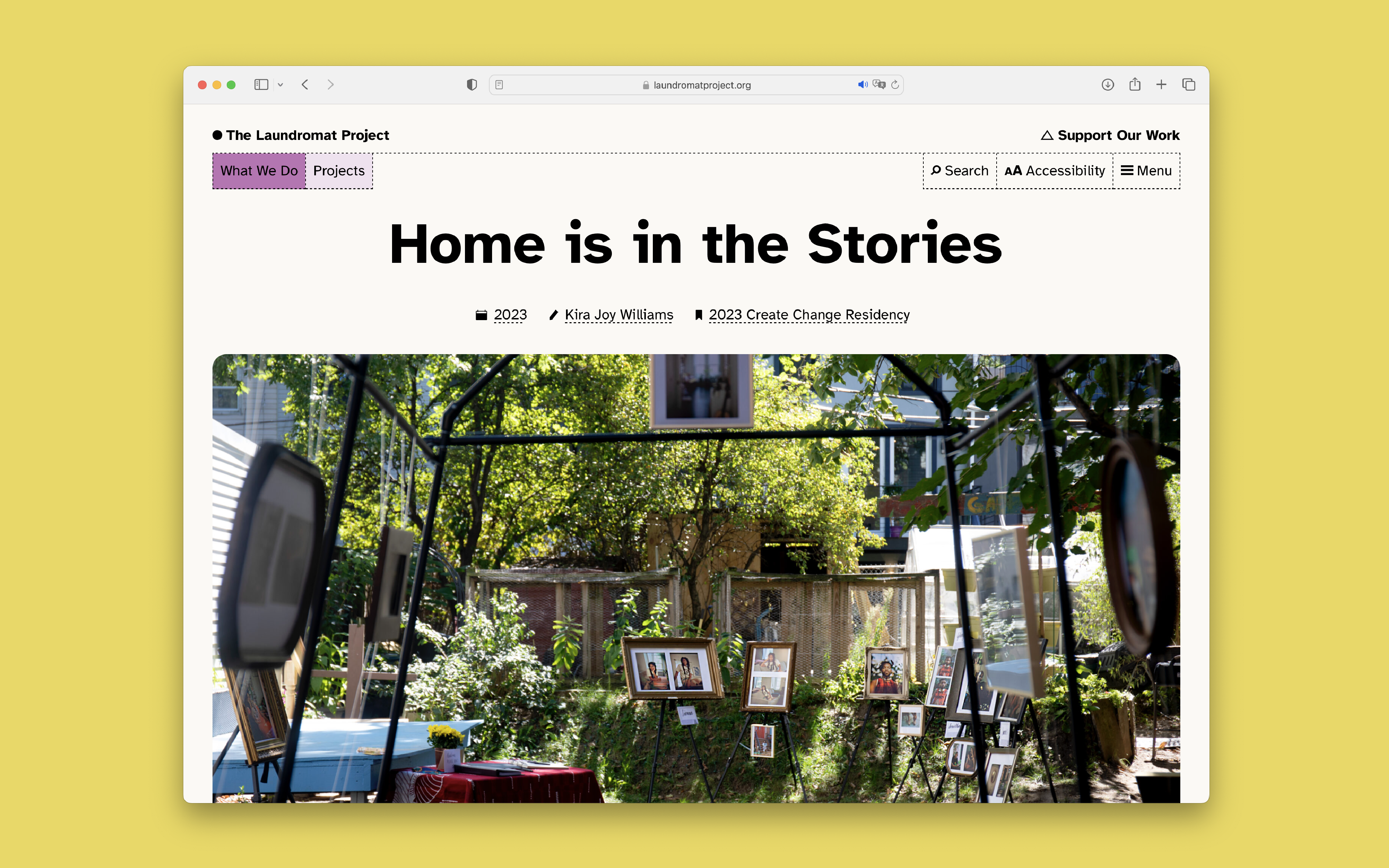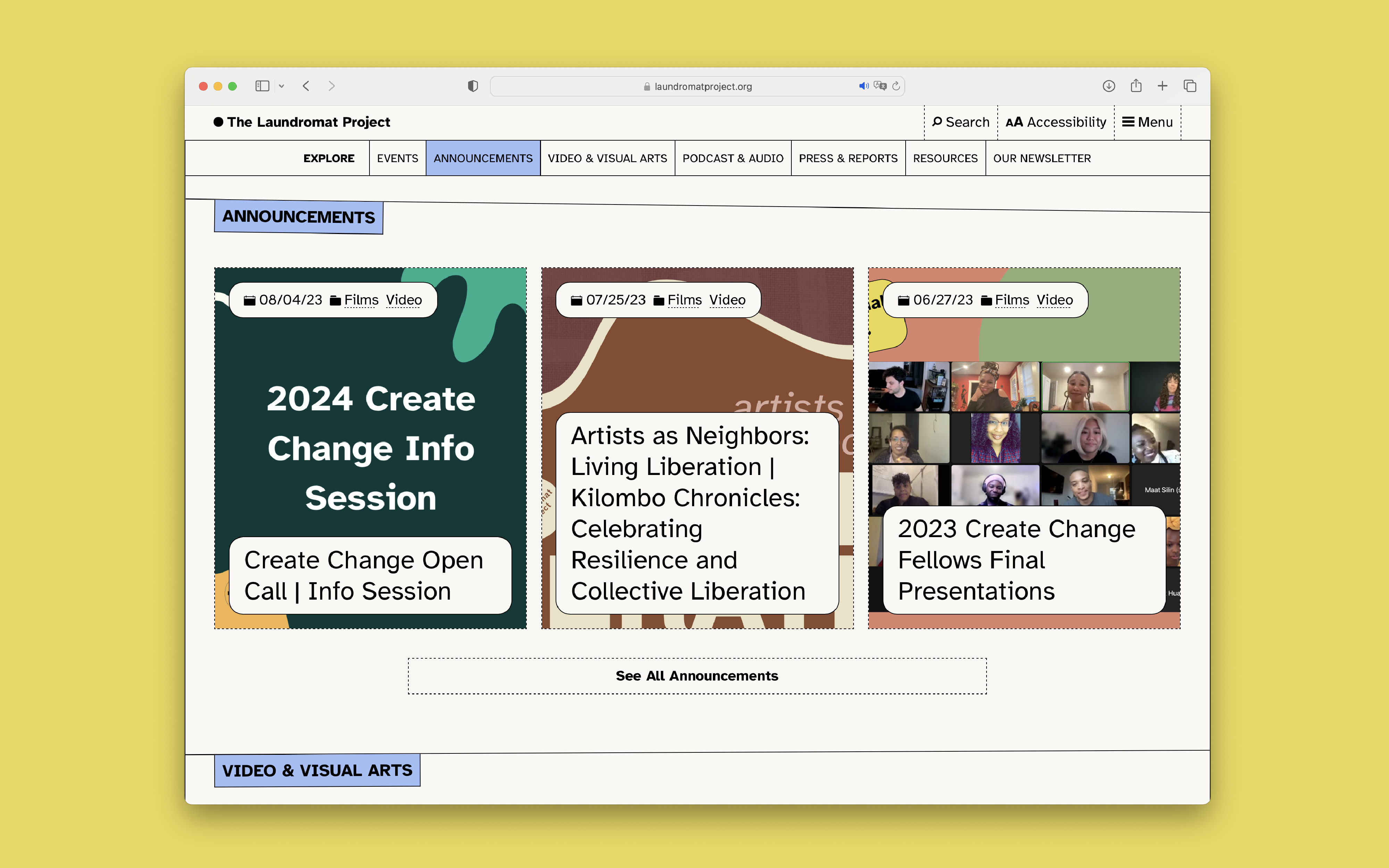 The Laundromat Project is a NYC-based nonprofit that advances artists and neighbors as change agents in their own communities. With Partner & Partners, I worked with The Laundromat Project on a new website and refreshed identity materials. With a long-term storefront home secured and in-person programming resuming, the new LP website provides tooling for the organization to showcase and connect between their abundance of programming, collaborations, and projects.
Institute for Rebooting Social Media — Identity & Website, 2022
---
Institute for Rebooting Social Media (RSM) is a 3-year initiative by the Berkman Klein Center at Harvard University whose goal is to accelerate progress towards addressing social media's most urgent problems, including misinformation, privacy breaches, harassment, and content governance. With Partner & Partners, I created various assets, including the logo, website layout and hierarchy, image treatment and transitions, and brand guidelines.
Journal Grids — Posters, 2022
---
A series of posters that lays out personal journal entries with grids, images, and typographic illustrations.
Fruit Flies — Show Poster, Invitations & Signage, 2022
---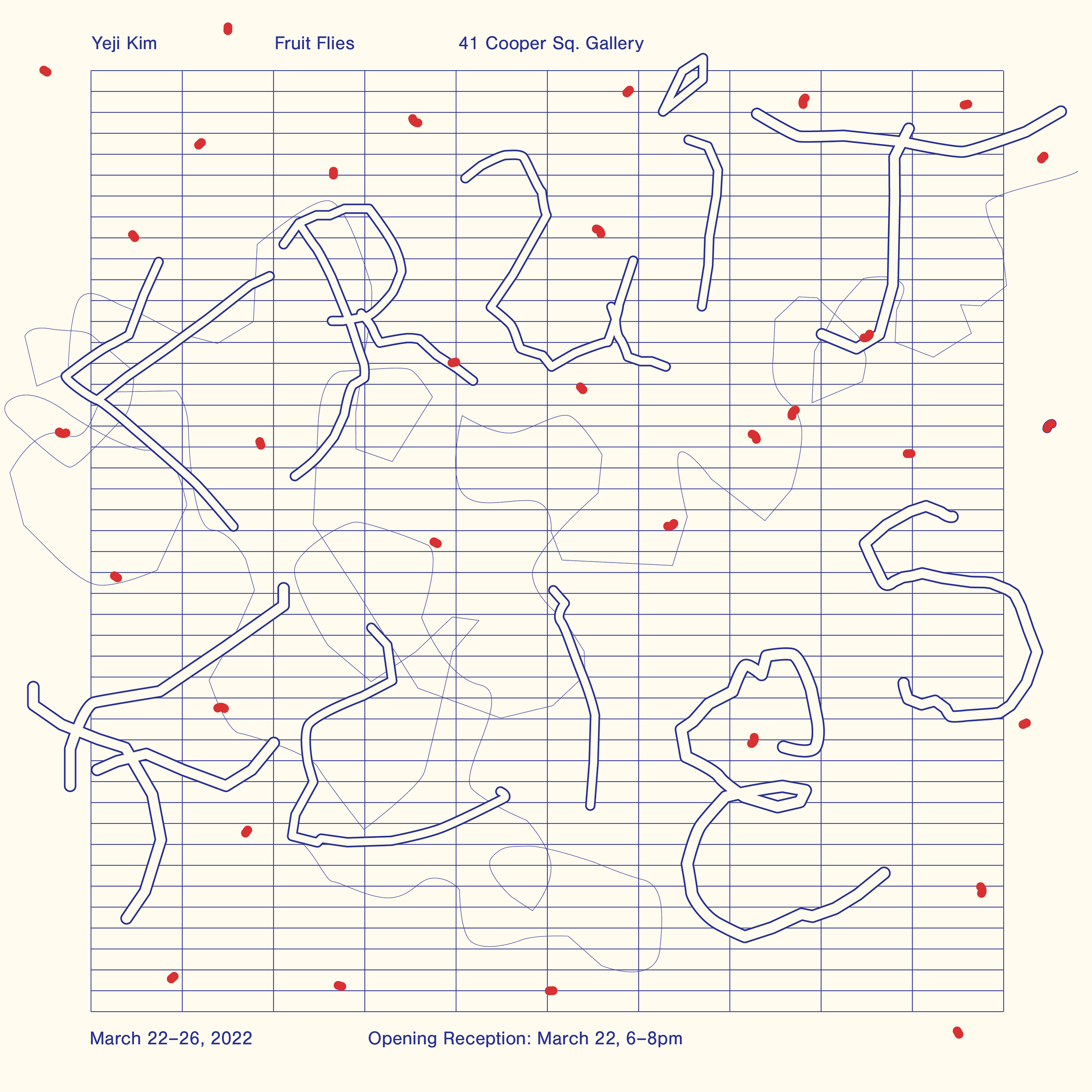 Poster and invitation (physical and digital) for my solo show, Fruit Flies, which showcased various paintings, posters, books, prints, ceramic pieces, and animations.
I Have Been Here Before — Show Poster, 2022
---
Risographed poster created in collaboration with artist Kailey Weaver for her solo show, I Have Been Here Before.
N-400: Application for Naturalization — Risographed Zine, 2022
---
The U.S. Immigration system is especially notorious for its hostile bureaucracy, as translated into and demonstrated by language used in various naturalization paraphernalia. This booklet consists of AI-generated narratives, derived from words and visual structures used within the N-400 Form and Preparing for the Naturalization Test: A Pocket Study Guide. 19 real immigration jargons were used to generate each fake narrative in this booklet. Collected by the Herb Lubalin Study Center of Design & Typography.
HUGO BALL(oons) — Balloon + Packaging, 2021
---
Each balloon contains a stanza from Karawane, a sound poem composed of meaningless sound-words by Hugo Ball. The balloons are to be popped in homage to the Dada movement's rejection of language and logic in opposition to the brutalities of war.
A Thing About Things With Words — Chapbook, 2021
---
A bookmark-shaped chapbook composed of essays by Donald Barthelme, Georges Perec, Jhumpa Lahiri, and Nicholson Baker on their relationships to spoken and written words.
Gung-Ho — Website + Book, 2021
---

What if children were granted the right to carry in schools to protect themselves from mass gun violence? If so, what kinds of materials would help children understand guns as a friendly object, rather than the killing machine it is? This satirical project is conceived around a series of what-if's surrounding the topic of school shootings to create a sense of discomfort around the presence of guns around schoolchildren. View full website prototype here.
Shiny Streets of Grime — Poster, 2021
---

Poster created for PHxCollege's screen printing demo with
Bushwick Print Lab, inspired by

The Push Pin Legacy

exhibit at Poster House, which was on view during the event. In-process shots by

Aaron Cohen. Collected by the Poster House permanent collection.

Modular Emotions — Book, 2021
---
A screenprinted book that depicts various emotions through combinations of gridded icons. The modularity of the icons, as well as the form of the book itself, explores the fluidity and in-betwenness of emotions.
Funeral Unknown — Zine, 2021
---

A screenprinted zine about specific funeral rituals, sounds, and objects that explores the fragmented reality of grief.
Fishes from Childhood — Posters, 2020
---
Series of posters that pays homage fishes that elicited strange stares in dingy elementary school cafeterias.
Tearanosaurus-X — Motion Graphics, 2020
---
Advertisement for Tearanosaurus-X, a bogus diet tea company that sells toxic dreams of weight loss.